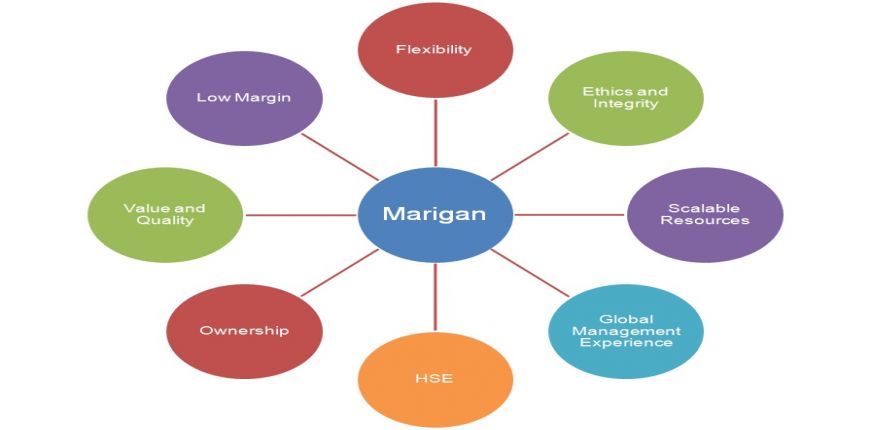 Marigan is a total solution consulting company providing services from Concept to Commissioning.
ENGINEERING, PROCUREMENT AND CONSTRUCTION (EPC):
Marigan Engineers & Constructors is one of the fastest growing engineering consultancy and EPC company. Company has also diversified into sectors Oil & Gas (Onshore / Offshore), Refinery, Petrochemicals, Chemicals, Utilities & Waste water, Pipelines, Power, Aluminium & Steel, Defence and Infrastructure.
Marigan is a 'total solutions' engineering consultancy company providing Conceptual, Feasibility studies, FEED, Detail engineering, Procurement, Construction, Project Management, Precommissioning & Commissioning, Validation, Residual Engineering and Brown Field Engineering from Concept to Commissioning with highest quality and safety standards.
Marigan provides project management and coordination services by combining a project team staffed with committed & exceptional technical personnel and skilled engineering technical personnel and skilled engineering specialists who provide ace support to the project team.
Its procurement services also compass market scouting, cost estimation, request for quotation, technical and commercial evaluation, contracts negotiation, post order management including inspection and expediting, shipment and custom clearance. Marigan has relationships with a lot of suppliers and subcontractors in both domestic and international markets.
Business model combined with its licenses, engineering services, EP (Engineering & Procurement), and EPC (Engineering, Procurement & Construction) competences and technical strength give clients access to the best start of the art processes.
Marigan is continuously strengthening its professionalism and its extra ordinary dedication to the customer satisfaction combined with an utmost sincerity.
TECHNICAL SUPPORT SERVICES (SECONDMENT SERVICES):
Marigan provides recruitment services, specializing in Oil & Gas (Onshore / Offshore), Refinery, Petrochemicals, Chemicals, Utilities & Waste water, Pipelines, Power, Aluminium & Steel, Defence and Infrastructure. Our services cover a broad spectrum of technical (Engineers, Designers & Draftsman) and all support levels.
We successfully match the right people to the right jobs. We are fully committed to support of our partners in their development and expansion within the region.
We focus on total system responsibility, from conceptual design, engineering to support during fabrication, installation and commissioning.
Marigan has been continuously expanding its services portfolio to accommodate the growing needs of its clients. We follow ISO 9001-2015 standards while offering high quality services and value driven pricing.
Marigan has implemented integrated management system as per ISO standard for its EPC business which covers all the activities from Engineering to Commissioning. This ensures every activity which is carryout out in Marigan is as per latest international practise. System have been put in place which ensures proper check and balance to maintain and improve the standards of our quality.
TRADING AND DISTRIBUTION:
Marigan Trading offers a wide range of engineering equipments, Instruments and systems including main and bulk items,etc.
INDUSTRIAL TRAINING INSTITUTE:
Marigan Industrial Training Institute offers a wide range of training programs and development for engineers (professional and college students), operators, technicians, consultancy and advisory services in the field of engineering and to engage in workshops, research and development.
Our Business Model
Low margin
flexibility
Ethical and moral business practices
Value and quality delivered
Skilled people in services
Scalable resources
Global management experience
Understanding customer requirements