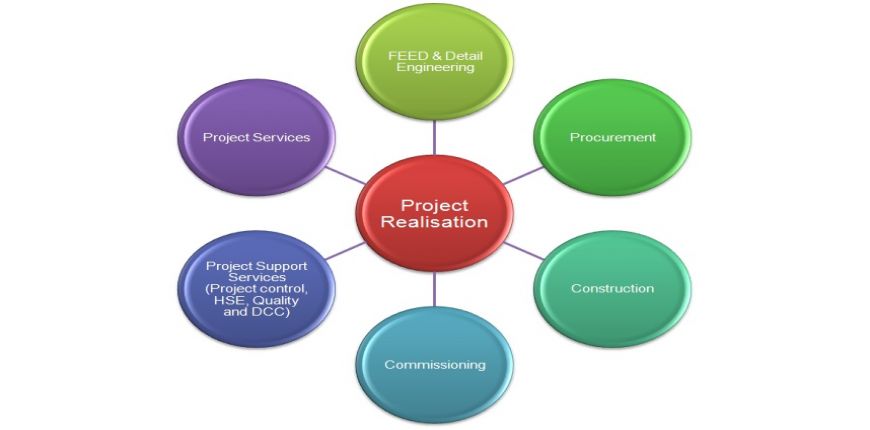 Marigan Engineers & Constructors offers the following services,
Once the project business case is established, rigorous studies are needed to various possible development options. By eliminating the 'not so suitable' options the conceptual studies phase presents a large investment on engineering effort our experience and extensive project database helps in making right decision by providing technical and commercial information from past projects without conducting extensive engineering or sourcing the market for cost data.
These studies are highly technical in nature and our specialist engineers carry out development planning, basic engineering, process simulation, infrastructure requirement assessment and preliminary cost estimation to enable stakeholders choose the most suitable development options.
Marigan Engineers & Constructors offers the following key modelling and analysis for all aspects of plant design by using commercially available software's.
Steady state modelling
Dynamic simulation
Depressurization studies
Flow assurance studies
Energy analysis
Computational Fluid Dynamic (CFD) Modelling
Finite elements Modelling
Material selection study
Pipe stress and vibration analysis
Corrosion study
Our business experts evaluate the strength and weakness of the proposed project and provide options to achieve optimal technical solution and achieve profitability. We create a bankable techno commercial feasibility report covering following aspects critical for investment decision.
Development planning
Facility configuration
Technology selection
HSE Impact assessment
Execution model development
CAPEX & OPEX budgeting
Economic modelling
Risk assessment
Recommendation for financial investment
Plant Performance Review
Marigan has multi-discipline engineering resources and experience in developing the conceptual and feasibility studies into a front end engineering and design (FEED) package suitable for EPC or EPCM tendering. During the FEED phase, the project schedule, tendering philosophy, risk mitigation strategy, work break down structure and detailed cost estimates are developed to plan the procurement and construction phase. Key documents will be part of FEED package.
Conceptual process studies
Preliminary Piping and Instrument Diagrams
Plot plans
Specifications
Long lead datasheets
Main piping, instrument, electrical and civil works layouts
Key sizing requirements for equipments and instruments
Tender package
Documents to support FEED package to perform detail engineering
Marigan has a strong team of multidiscipline engineers capable of conducting detail engineering projects. The detail engineering facilities are located conveniently and equipped with state of the art office infrastructure, design software, information systems and communication facilities to seamlessly integrate with customer team, vendors and construction sites.
Preparation and Development of Process documents and drawings including Piping and Instrument Diagrams
Preparation and Development of piping and pipeline documents and drawings including isometrics and stress calculations
Preparation and Development of documents and detailed drawings related to Mechanical equipments (Static and Rotating)
Preparation and Development of detailed drawings and related to instrumentation, electrical, Telecom, HVAC facilities and civil and structural works
Management of vendor drawings
Marigan provides the residual engineering services for the completion of projects for a small scale or large scale projects.
We use old and new technologies, providing the best tools to complete your brown field project. Key areas are here below.
Laser scanning techniques
Field surveys
Tie-in isometrics drawings and pictures
Traditional survey methods
Marigan receives input drawings in the form of pdf files, scanned images of dwg formats. Marigan can provide 2D drawings in AutoCAD or Microstation formats. Large pool of resources to fulfil your drafting and engineering services requirements in case to case basis.
Plant Design Automation: Equipment layouts, piping layout, and modelling, structural design and 3D modelling. Using plant design design software, creating intelligent PID's using SP PID, conversion of as built drawings into models etc.,
Marigan draws its strength from a reliable chain comprising competitive and high quality suppliers with proven track record in Oil & Gas (Onshore / Offshore), Refinery, Petrochemicals, Chemicals, Utilities & Waste water, Pipelines, Power, Aluminium & Steel, Defence and Infrastructure businesses. Due to its geographical spread, Marigan remains in close contact and continuously interacts with the prequalified suppliers to keep them abreast with market changes, and the evolving needs and supports them to prepare for the future. Vendor relationship management is critical and Marigan sustains it by regular communication and ensuring a win-win situation for all parties.
Marigan deploys its ISO certified health, safety and quality management systems to the construction sites with a committed multi discipline construction management team. The Construction management team is supported by the Marigan information system which connects them to specialist engineers, projects, procurement and engineering office to ensure seamless communication, steady flow of construction document and 24/7 access to execution resources. The commissioning team remain continuously involved during construction and conduct precommissioning checks to minimize the start-up risks. After mechanical completion, the process and control experts from Marigan core technical team conduct a detailed review of the plan consultant are proceed to performance trials and handover.
Marigan has capability to offer different management models allowing customers to choose between simple project management or engineering, procurement and construction management (EPCM) models, where the group capabilities of detail engineering, supply chain and material management can be harassed to deliver projects more efficiency and competitively
During PMC the Marigan way ensures customers can manage their projects risks in a pro-active way and achieve their business objectives.
Marigan provides the complete suite of precommissioning and commissioning services under a single project management team in order to provide enhanced safety, quality and schedule performance on any project.
Marigan is well experienced in precommissioning and commissioning activities and can provide the in-depth experience guidance and qualified personnel necessary to deliver a unit safety prepared and ready to achieve a successful start-up.
Initiated right from the beginning of design phase, commissioning & start-up activity aims to validate the construction integrity and confirms that the facilities are delivered in a safe, reliable and operational conditions for a complete customer satisfaction.
Marigan provides the complete IT Consulting services under a single project management team in order to provide enhanced safety, quality and schedule performance on any project.
Key services include Artificial Intelligence, Big data, Cloud, Cyber Security, Application Services, Internet of Things for Automatic & Industrial, Banking, Insurance & Media Technology, Manufacturing, Retail, Consumer goods & Distribution, Energy, Resources & Utilities, Health care & Life Sciences, Travel & Logistics and Public Services.
Marigan provides additional services include Company Registration, MSME/SSI Registration, TradeMark Registration, Copyright Registration, Patent Registration, GST Registration, IEC Registration, Promotional Councils Registration, ISO Registration, ROC Filing, Post Incorporation Services and Managing Companies under AMC Contract.